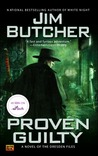 Proven Guilty by Jim Butcher
My rating: 4 of 5 stars

I don't know what it is about this series. I just can not stop reading it. For some strange reason I keep expecting Harry to have a pudding moment, you know like this...



For a good majority of the plot I was doing this...



To me I thought that most had established that Molly had the gift two books back when Harry squatted in the tree house. It was just ironing out the details of which parent was magically inclined. Other than that the book was golden.

Jim Butcher I swear you can not kill off Mouse! Him and Bob the skull are my favorite characters in this series, so just don't do it. Brilliant concept on the miniature Chicago, it reminded me so much of when I was a kid watching BeetleJuice.

On to the next. Cheers you ghouls!

View all my reviews